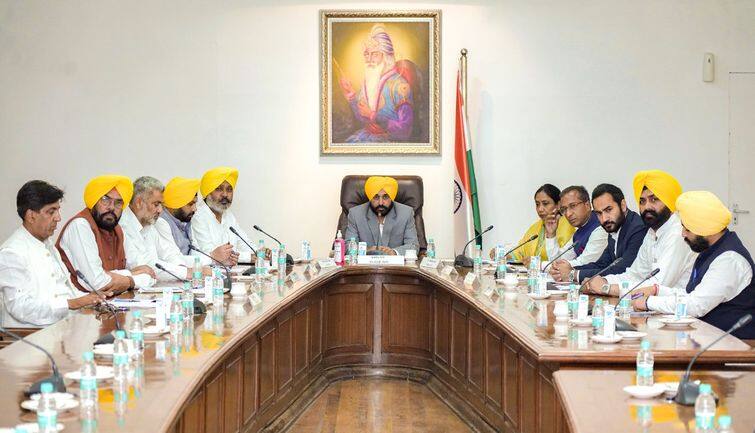 Punjab Chief Minister Bhagwant Mann chaired his first cabinet meeting in Chandigarh on Saturday. In the first meeting, he took the first decision to issue notification of total 25,000 government jobs in the state. Bhagwant Mann said, "The cabinet has passed a resolution to give a total of 25,000 government jobs. This includes 10,000 vacancies in Punjab Police Department and 15,000 vacancies in other government departments."
Job notification will come within a month
Bhagwant Mann said, "As we had promised before the elections, employment opportunities for the youth of our Punjab will be the top priority of the AAP government. Under this, the Punjab cabinet has also decided to issue these 25,000 job notifications within a month. has approved."
SAD leader Daljit Cheema congratulated
Shiromani Akali Dal (SAD) leader Daljit Singh Cheema said, "Congratulations to Punjab Chief Minister Bhagwant Mann and all his cabinet ministers. The decision taken by the cabinet is a good decision. Just they should complete it on time because first. There have been many announcements and cabinet approvals have also been done but the work has not been implemented.
10 MLAs including a woman took oath in the cabinet
Earlier in the day, 10 AAP MLAs in Punjab took oath as ministers in the cabinet headed by Chief Minister Bhagwant Mann. The swearing-in ceremony was held at Raj Bhavan, Chandigarh. Punjab Governor BL Purohit administered the oath to all the MLAs. First Harpal Singh Cheema took oath and after that Dr. Baljit Kaur took oath as minister. Let us tell you that Baljit Kaur is the only woman minister in the Punjab cabinet.
Apart from this, the Governor administered oath to Harbhajan Singh, Dr. Vijay Singla, Lal Chand Katruchak, Gurmeet Singh Meet Hare, Kuldeep Singh Dhaliwal, Laljit Singh Bhullar and Brahm Shankar Sharma Zimpa. At last Harjot Singh Bains took oath.