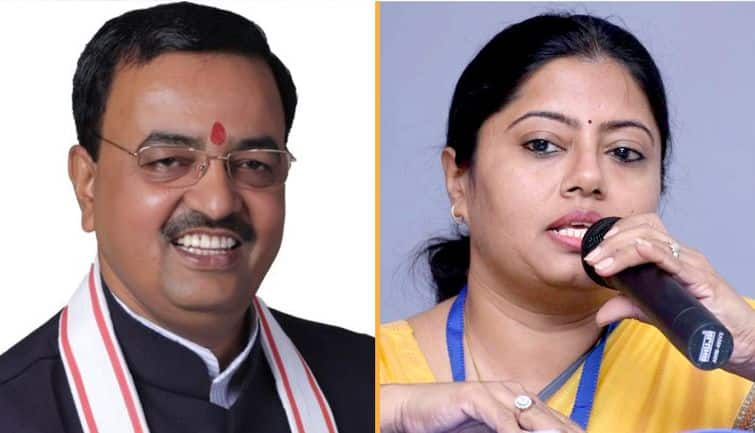 Sirathu Seat Results: Uttar Pradesh Assembly elections The Bharatiya Janata Party (BJP) has suffered a major setback. BJP candidate and UP Deputy Chief Minister Keshav Prasad Maurya has been defeated by SP candidate Pallavi Patel by 7,337 votes from Sirathu assembly seat in Kaushambi district. Pallavi Patel is the leader of Apna Dal Kameravadi. Although she was contesting from here on the symbol of Samajwadi Party.
BJP candidate Keshav Prasad Maurya got 98,727 votes in Siradhu assembly. On the other hand, Pallavi Patel, who contested on the symbol of Samajwadi Party, got 1,05,568 votes. From the very beginning of the counting of votes, there was a fierce competition between the two leaders. In between, Keshav Prasad Maurya went ahead for some time. However, after evening, Pallavi Patel returned again, finally defeating him by a margin of 7,337 votes.
UP Assembly elections The BJP has suffered a major setback. Counting of votes for Sirathu assembly seat of Kaushambi has been completed. UP Deputy CM Keshav Prasad Maurya has to face defeat in this seat. SP's Pallavi Patel has won this seat by 7337 votes. Pallavi Patel has got 105559 votes. While BJP's Keshav Prasad Maurya (98727) has got defeat.
BSP had given Muslim candidate
Talking about other candidates of Sirathu assembly seat, BSP had fielded a Muslim candidate from here. It was believed that Keshav Prasad Maurya could benefit from the division of Muslim votes into SP and BSP. However this could not happen. BSP candidate Munsab Ali stood third by securing 10,034 votes. On the other hand, Seema Devi of Congress could get only 843 votes.
I accept the verdict of the people: Keshav Prasad Maurya
At the same time, Keshav Maurya has tweeted after the defeat at the hands of SP. He wrote, 'I humbly accept the decision of the people of Sirathu assembly constituency. Thank you for the hard work of each and every worker. I express my gratitude to the voters who gave blessings in the form of votes.
This is the victory of the people: Pallavi Patel
After the victory, Pallavi Patel said, "This election has been fought by the people of Sirathu and the victory has also been won by the people. Salute to your struggles that you stood firm even in such a difficult environment and did not let justice be compromised. To the people of Sirathu. Congratulations on his victory. Dedicated with the determination to serve at the feet of the people of Sirathu."
This election has been fought by the people of Sirathu and the victory has also belonged to the people, salute your struggles that you stood firm even in such a difficult environment and did not let justice be compromised… Congratulations to the people of Sirathu for his victory. Dedicated with the resolve to serve at the feet of the people of Sirathu. pic.twitter.com/lHLKZnvD51

— Dr.Pallavi Patel (@pallavi_apnadal) March 10, 2022