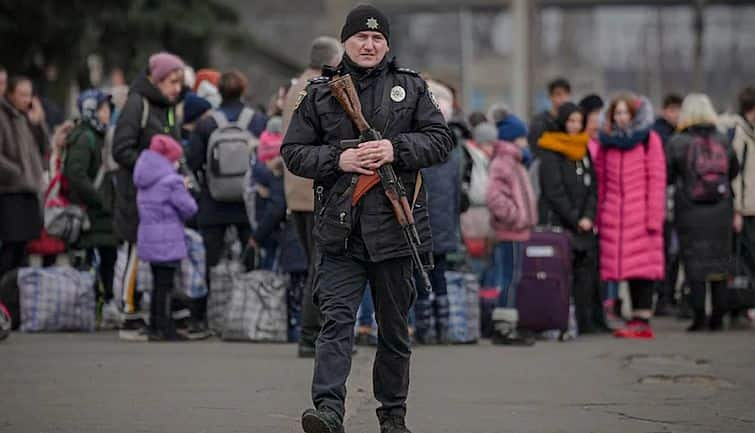 Indian students trying to escape from Ukraine are facing great difficulties there. Indian students stranded on the Ukraine-Poland border have told their ordeal that they were not being allowed to enter the Poland border. At the same time, some other students allege that they have also been beaten up at the Sheyani-Medayaka border point. This border connects Ukraine and Poland.
Students have told through video and audio quizzes that students trying to enter Poland are being stopped. They say that some girls had somehow entered Poland, some of whom were returned despite the extreme cold.
Sakshi Ijantkar is a fourth year MBBS student at Leave National Medical University, Mumbai. Describing her ordeal, Sakshi said, "They are only allowing Ukrainians to enter Poland. When we requested them, they allowed girls to enter Poland. But they beat up boys. One student got asthma. He was beaten so much that he started having trouble breathing.
Today is the fourth day of Russia's attack on Ukraine. Russian troops have entered Ukraine's second largest city, Kharkiv. On February 27, there is a fight going on in the streets.
Sakshi has sent an audio message asking for help. He said, "Many people are coming back to leave in despair. I am afraid for those who are traveling at below zero temperatures."
Liv is a city in western Ukraine. It is 70 km from the border of Poland. Students of Leave University had traveled for hours on foot, bus and lift to reach Poland border but they were not allowed to cross the border.
Check out some of the videos shared by Indian students on social media.
Ukrainian soldiers can be seen firing several rounds of gun shots in the air and beating up Indian students sitting quietly on the floor. Video taken by students of Lviv National Medical University, who witnessed it at the Ukraine Poland border. pic.twitter.com/Ez4aoApxgG

— Shivani Mishra (@shivani_mi) February 27, 2022
Ukrainian soldiers can be seen firing several rounds of gun shots in the air and beating up Indian students sitting quietly on the floor. Video taken by students of Lviv National Medical University, who witnessed it at the Ukraine Poland border. pic.twitter.com/Ez4aoApxgG

— Shivani Mishra (@shivani_mi) February 27, 2022