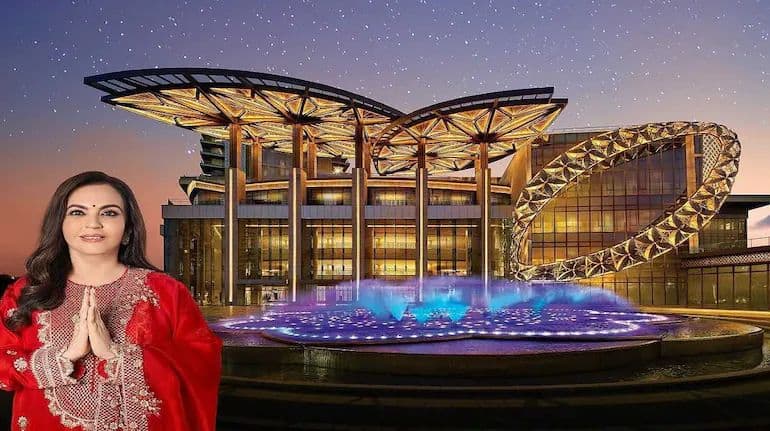 Reliance Industries (RIL) on Friday, March 4, launched the country's largest convention center and multi-functional destination, Jio World Centre. Jio World Center has been opened in the heart of Mumbai called Bandra Kurla Complex and it is spread over 18.5 acres.
Reliance Industries said in a statement, "The idea behind the creation of Jio World Center was Nita Ambani, Director, Reliance Industries and Founder-Chairperson, Reliance Foundation. Spread over 18.5 acres, the center will become a prestigious business, commerce and cultural destination. So that India and its citizens can get a world-class landmark."
Jio World Center also houses a Cultural Centre, a Musical Fountain, retail showrooms of all the world's biggest brands, luxurious cafes and restaurants, serviced apartments and offices and a state-of-the-art convention centre.
The company said that different parts of Jio World Center will be opened in phases. Some parts of it will be opened this year, while some parts will be opened next year. The Dhirubhai Ambani Square and Fountain of Joy have been opened in the initial phases, the statement said. Mumbai's premium retail destination Jio World Drive has already been inaugurated at Jio World Center.
Free entry will be available at Dhirubhai Ambani Square
The company said that Dhirubhai Ambani Square is dedicated to the founder of Reliance Industries, Dhirubhai Ambani and the city of Mumbai. Here common people will get free entry. The square promises to be a must-see destination for local citizens and tourists from all over the world.
Speaking on the occasion, Nita Ambani said, "Jio World Center is yet another achievement for our proud nation. It reflects the aspirations of New India. Equipped with the largest convention, cultural events, premium retailing and dining facilities, Jio World Center has been shifted to Mumbai. This will be seen as a new landmark in the world. It will become a hub where we together write the next chapter of India's growth story."
The meeting of the International Olympic Committee will be held here next year
The International Olympic Committee meeting is to be held in the Jio World Center itself in 2023. The meeting will take place at its convention centre. According to the statement, its 2 convention centers can seat 10,640 people simultaneously.