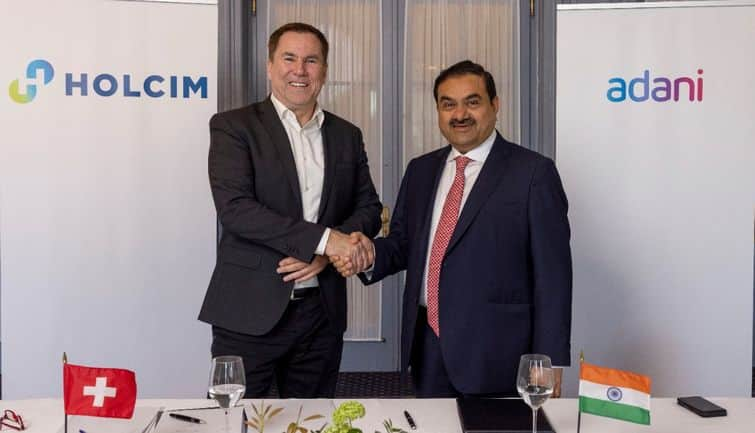 The country's two major cement companies – Ambuja Cements Ltd and ACC Ltd will soon become the Adani Group. The Adani Group on Sunday said it has signed an agreement worth $10.5 billion with Ambuja Cements and ACC Ltd to buy out the entire stake of Swiss-based Holcim AG. Adani Group will buy this stake through one of its overseas subsidiary.
Holcim holds 63.19 per cent stake in Ambuja Cements and 54.3 per cent stake in ACC (of which 50.05 per cent was acquired through Ambuja Cements) through its subsidiary. Adani Group will pay $10.5 billion to buy Holcim's entire stake in both the companies. With this, this will be the biggest acquisition ever by the Adani Group and the country's infrastructure and materials industry.
Holcim is pursuing a strategy to focus on building technology by diversifying from its core business of cement. The company's focus is on sustainable development. Keeping this in mind, she wants to sell her Indian cement business. The company sold its Brazilian unit in September 2021 for $1 billion as part of its strategy. Apart from this, the company is preparing to sell its business based in Zimbabwe.
Earlier, Moneycontrol had told in a report that the board of the world's largest cement company Holcim Ltd may soon announce the sale of its Indian business. With this, it will be one of the biggest cases of a multinational company coming out of India by selling its business.
Ambuja Cement is India's leading cement company established in 1983. BUJA's current production capacity is 31.5MT and is currently working on expansion plans to 7MT. ACC is a subsidiary of Ambuja Cement. The current production capacity of ACC is 34MT and it is currently working on several projects. Market analysts say that the combined production capacity of both is currently 66MT. At the same time, upon completion of the ongoing expansion plan, this capacity will increase to 78MT.
Both Ambuja Cement and ACC are listed companies on the stock exchange. On Friday i.e. in the last trading day, the stock of Ambuja Cement on the NSE closed down by 4 per cent at Rs 358.30. The 52 week high of this stock is at Rs 442.50 while its 52 week low is at Rs 274.00.
Similarly, shares of ACC Cement had closed at Rs 2,102.15 on the NSE with a fall of 3 and a half per cent on Friday. The 52 week high of this stock is at Rs 2,589.00 while its 52 week low is at Rs 1,854.00.