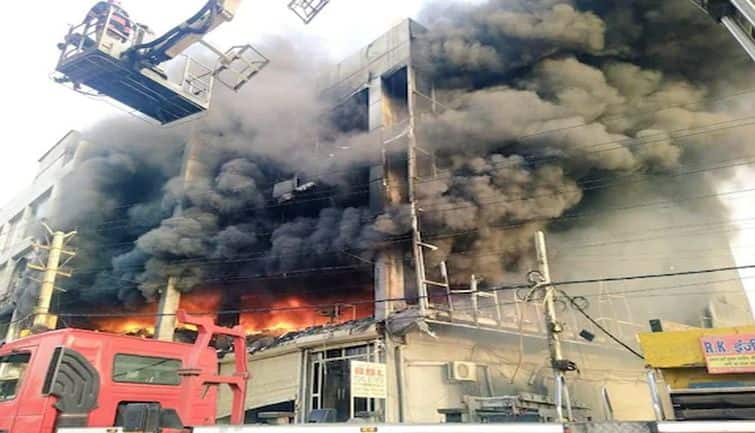 At least 20 people have died in a fire that broke out in a three-storey building near Mundka Metro Station in Delhi on Friday evening. Atul Garg, Director, Delhi Fire Department said, "So far 20 bodies have been recovered from a three-storey commercial building that caught fire near Delhi's Mundka metro station this evening. Rescue work is still on."
Police said that it is a commercial building, which has offices and showrooms of several companies. Delhi's Outer District DCP Sameer Sharma said, "The fire has spread to all the three floors. We have rescued 50-60 people so far. Fire tenders are trying to douse the fire. 15 fire tenders are on the spot. We are present, we have called more fire engines."
The search of the third floor was yet to be done till the time of writing this news. Some people are still trapped in the building and efforts are on to rescue them, a Delhi Police official said.
According to fire department officials, the information about the fire was received at around 4.40 pm after which 24 fire tenders were sent to the spot. The body of a woman has been recovered, efforts are on to identify her, he said.
The nine injured, who were pulled out of the building, were admitted to hospital and rescue operations were on, police said. Officials said the fire broke out in the building located near pillar number 544 of Mundka metro station. A senior police official said that on receiving information about the fire, police personnel rushed to the spot and the people trapped in the building were rescued by breaking the window panes and the injured were admitted to a hospital.
According to preliminary investigation by Delhi Police, the fire started from the first floor and then spread to the other two floors. On the first floor where the fire started, there is an office of a company selling CCTV cameras and routers. Police said that the owner of the shop is being interrogated after taking him into custody.