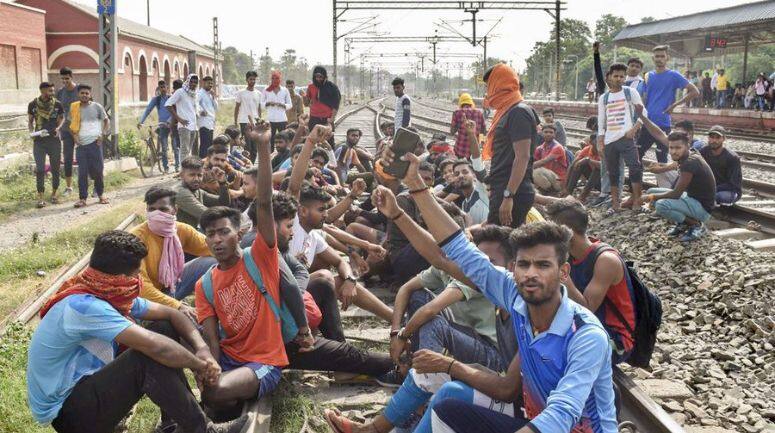 Agnipath Scheme Protest: The biggest protest and violence against the 'Agnipath' scheme of recruitment in the army has been in Bihar. Due to this, the state government has decided to suspend internet services in Kaimar, Bhojpur, Aurangabad, Rohtas, Buxar, Nawada, West Champaran, Samastipur, Lakhisarai, Begusarai, Vaishali and Saran districts till June 19.
Angry youth blocked Rajbara Gumti road in Begusarai district. The movement of trains was affected as the protesters sat on the railway track. Protesters protesting at Hajijpur railway station were detained.
During the agitation, the mob also attacked the house of Deputy Chief Minister Renu Devi. PTI quoted Renu Devi as saying, "Massive violence and arson are the handiwork of goons instigated by opposition parties. What do the targeted attacks on BJP leaders tell? My house in Bettiah was attacked. Glasses of windows and standing inside. A car was damaged. A petrol pump owned by Sanjay Jaiswal's brother was also vandalised."
The Deputy CM lamented that she was planning to fly to Bettiah by helicopter to attend several events, but had to postpone the visit due to the law and order situation.
Stones were pelted on BJP MLA Vinay Bihari's car in Motihari, adjacent to Bettiah. The attack on BJP leaders came a day after party MLA Aruna Devi was injured in a stone-pelting incident in Nawada, where a mob also torched the party office.