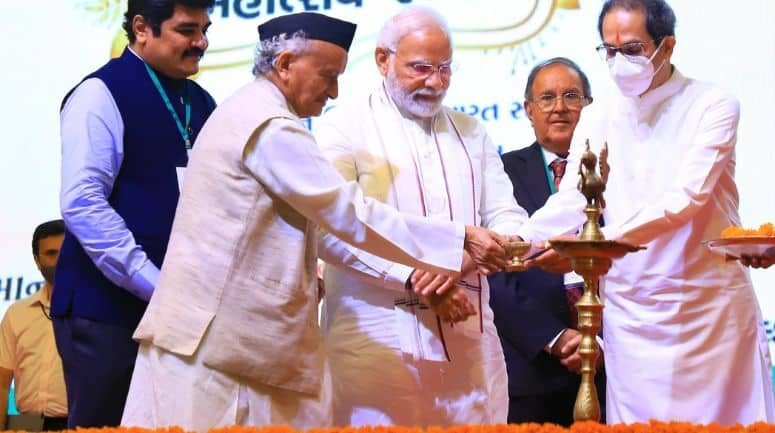 Prime Minister Narendra Modi reached Mumbai on Tuesday evening. PM Modi is scheduled to attend several big events, including the launch of a gallery of the Revolutionaries Museum at Raj Bhavan. During this, Maharashtra CM Uddhav Thackeray was also present with him. This was the first time in several months that Modi and Uddhav shared the stage together after the tussle between the Shiv Sena and the BJP.
At the inauguration of a gallery of the Revolutionaries Museum at Raj Bhavan, the Prime Minister remembered Chhatrapati Shivaji Maharaj and Chhatrapati Sambhaji Maharaj for their emphasis on 'Swaraj' and patriotism. The PM said, "When we talk of Swaraj, the life of Chhatrapati Shivaji Maharaj and Chhatrapati Sambhaji Maharaj still strengthens the feeling of patriotism in every single Indian."
He said, "Maharashtra has inspired the country in many fields. If we talk about social revolutions, there is a very rich legacy of social reformers from Jagatguru Sant Tukaram Maharaj to Babasaheb Ambedkar." He said that the saints of Maharashtra like Dnyaneshwar, Namdev, Samarth Ramdas and Chokhamela have given energy to the country.
Earlier today, PM Modi was received by Maharashtra Governor Bhagat Singh Koshyari, CM Thackeray, Deputy CM Ajit Pawar and Protocol Minister Aaditya Thackeray at INS Shikara heliport in Mumbai.
Revolutionary Museum at Raj Bhavan
The Underground Gallery of the Revolutionary Museum is built in an underground network of 13 British-era bunkers dating back to the First World War. It was discovered in August 2016 in the Raj Bhavan complex during the tenure of the then Governor C. Vidyasagar Rao.
The gallery houses the heroes of the freedom struggle movement, their role in the movement, sculptures, rare photographs and descriptions of tribal revolutionaries drawn by school children.
On the other hand, if we talk about Modi and Uddhav's mutual meeting, on April 24, Chief Minister and Shiv Sena chief Thackeray did not participate in the ceremony in which Modi was presented the Lata Deenanath Mangeshkar Award in Mumbai.
Earlier, on March 6, when the Prime Minister went to Pune to inaugurate the Pune Metro, CN Thackeray did not come. The Shiv Sena had said that the chief minister could not attend the function as he was on rest after a surgery.
Earlier, Modi and Thackeray were seen together for a few moments during the last rites of famous singer Lata Mangeshkar at Shivaji Park in Mumbai on February 6.
Maharashtra of 2019 assembly electionsThe relationship between the former allies Shiv Sena and BJP, which broke up after the years, has deteriorated continuously in the last few years. Shiv Sena has often accused the central government of misusing central agencies to target the Shiv Sena-NCP-Congress coalition (MVA) government in Maharashtra.